The economics of foreign aid spending has been contentious for a long time. Last November, the government declared that overseas aid spending would be 0.5% of national revenue in 2021, a 29% reduction from the stipulated 0.7%, enshrined into law in 2015. Although UK assistance spending as a percentage of national revenue will remain high by worldwide and historical standards, it will be down from £3.5 billion in 2020. This comes after a £0.7 billion decrease between 2019 and 2020 as the British economy shrank. Despite this recent reduction, foreign aid spending has increased over the past decades, potentially justifying a slight reduction given the hit to public finances.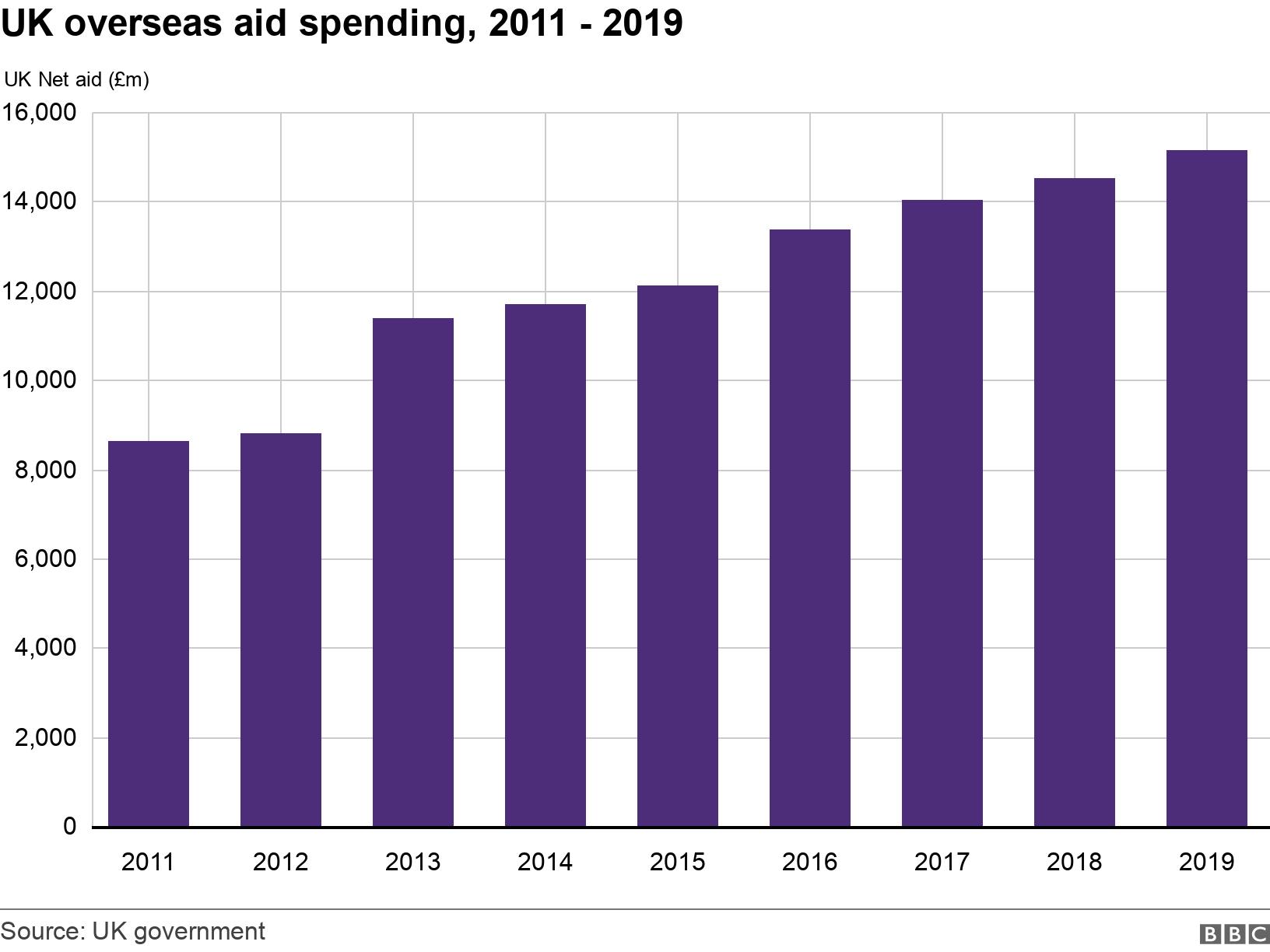 Recipients
Over time, the distribution of foreign aid spending has changed drastically. In 2015, Pakistan was the largest recipient of foreign aid, receiving £375 million; Ethiopia second, receiving just under £350 million, and Afghanistan third, with £300 million. However, by 2017, Syria had overtaken both Ethiopia and Afghanistan in spending, receiving £352m.
Overall, 36% of the money spent on foreign aid is sent via multinational organisations, like the United Nations. 64% of the funds went to specific countries as bilateral aid, such as aforementioned Pakistan. The top 3 uses of bilateral aid were: Humanitarian (15%), Multisector (13%) and Government / Civil Society (13%). In 2019, £1.4 billion was spent on health-related projects.
With regard to continents, Africa is the biggest recipient of foreign aid spending – comprising just over 50% of spending in 2020. Asia comes in second, receiving 42% of our foreign aid money.
Other nations
In 2016, the UK was one of 5 countries that spend 0.7% or greater of GDP on foreign aid spending. However, in the G7, the 0.7% target has been achieved by only three out of the seven nations, in the past decade. In 2015, the UK was the second biggest donor of foreign aid globally, with the United States sending the most money abroad. This rendered British taxpayers responsible for an eighth of all foreign aid spending that year.
Is the recent cut justified?
Proponents of foreign aid spending would argue that foreign aid spending boosts our economic growth in the long run. Their logic follows that the inflow of capital into these nations will spark investment in the long run, leading to the civilians of their respective nations purchasing British goods. However, this has yet to be seen, with the value of goods exported from Pakistan, the largest recipient of foreign aid in 2015, falling from £600 million in 2008 to just under £450 million by 2015.
As with all government-related programs, there is a tremendous amount of waste in foreign aid spending. In 2014, over £12 million of foreign aid spending was spent on the salaries of 'UK experts' and various consultancy firms involved, instead of going towards helping those in need. This is without mentioning the millions of pounds in pension payments that have been made to former British colonial officers over the past decades.
The UK is currently borrowing money to send money overseas – depriving future generations of their hard-earned money, as higher taxes will be forced upon them to repay the billions in debt that have been accumulated from this spending; all this whilst wealthy nations such as France and Italy have not even reached the 0.7% of GDP target once, in the past decade.
There is public support for the reduction in foreign aid spending, with 66% of the general population backing these cuts according to YouGov – a majority of both Conservative and Labour supporters.
A better alternative
Helping foreign nations grow their economies and with it, their wealth and prosperity should continue to be a priority for all countries, but foreign aid spending is not the answer. Instead, countries should push towards free trade agreements with these developing nations. The massive reduction of absolute poverty levels in South East Asia, particularly in nations such as Japan and South Korea has been due to free trade. China is also a noticeable example, having lifted record numbers of people out of extreme poverty through decades of economic growth, driven by free trade.
Whereas foreign aid spending leads to an increase in the amount of capital invested towards economically wasteful projects by governments, free trade encourages the investment of capital by businesses, alongside the reduction in the costs of consumer goods for the residents of developing nations.